By: Jacqueline Kirby Zonkowski
This post contains affiliate links. If you use these links to buy something we may earn a commission. Thanks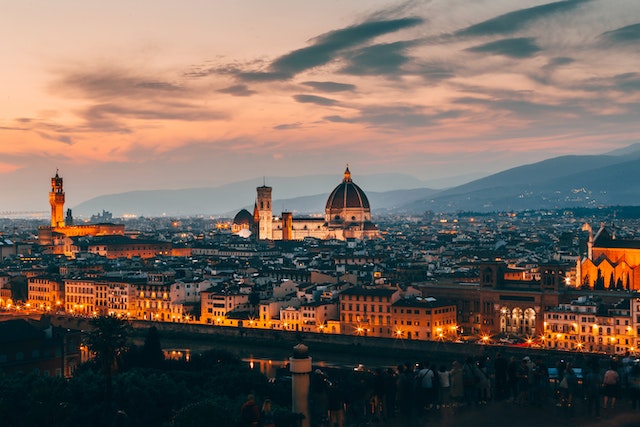 Okay, okay. Florence in 48 hours may seem like a stretch, but I've done it a few times, so buckle up!
Being in the middle of the country, you can get to Florence quite a few ways.  I typically take the train in from another city, flying to Rome or Venice and going from there.  However, Pisa is a quick trip to the city center and there are really affordable bus options.  The first time I did it, I only spent 4 Euro!
Florence is the birthplace of the Renaissance and there is so much art you could spend weeks looking at every piece.  Don't get me started on the number of Madonna's displayed in the city. But there are a few you should not miss.
The David at Galleria dell'Accademia should be the first thing you see.  The lines are normally really long, but I'm telling you, when I turned the corner and saw him there, it took my breath away.  You can book in advance or when you get to the museum, there is a ticket window across from the entrance you can get a reserved time for also.  I recommend early in the morning to start your day and then head to Mercato Centrale for a snack afterwards! Downstairs is an actual market and upstairs is a food court with everything your heart could desire.  Check out both, as the market has lots of great stuff you can bring home as gifts – like Chianti Salts!
I'm a palace person, we all know this, I'm quite shameless about it actually.  So on my first day in Florence I skipped all of the recommendations to spend a few hours at Palazzo Pitti. I'm also a huge Dan Brown fan, so I found walking through the Boboli Gardens extra fun.  The palace itself is beautiful but check to see what exhibits are on so you don't miss something spectacular.  I'm always a fan of the fashion exhibits. I spent quite some time here, really taking it all in so I would recommend at least 4 hours here, but you could take all day.  The gardens are quite expansive and a great place to relax on a beautiful day.
If you've read Dan Brown, you know about the Vasari Corridor, which is a secret passageway atop the Ponte Vecchio going from Palazzo Pitti to Uffizi Gallery.  There are actually Dan Brown Inferno tours your can do through Florence, which I hear are great. I think Uffizi Gallery okay, but I'm not nuts for it.  I would check out what is on exhibit, where the da Vinci's are, and be on your way.
There are 7 churches around the city and each church is more beautiful than the next.  While the Duomo may be the most famous of them, Santa Croce is my favorite one.  The piazza surrounding it is so beautiful and there are some great places to eat & drink nearby.  My favorite lunch spot, Lo SchiacciaVino is right around the corner.  The sandwiches here are so amazing.  I like to try different things each time but one thing I can't go without is the arugula spread. Its addicting! Also be sure to order a glass of wine.  Ask for a glass of Soffocone, its delicious and will warrant a chuckle out of the locals.  Maybe one of them will tell you why
One of the best late night places, Dondino, is also in Santa Croce.  Its an intimate space with great drinks and a vibrant staff.  Some of my friends have even been known to hop behind the bar when they are in town! Ask about the picture on the wall.  It depicts the soccer match that has gone back centuries between the neighborhoods of Florence.
Another great place to stop is Caffe La Terrazza on top of the Rinascente department store.  Its right next to Duomo and has one of the most spectacular views of the city. Its a small terrace and very dog eat dog for a table, both between humans and pigeons but go up for a Spritz and see the beauty of the whole city.
Never miss an opportunity to make a wish, that's what I always say. Visit the Cinghiale statue in Mercato Nuovo.  Its already bustling with people shopping the outdoor market, but stand in line and rub a coin on the boar's tongue as you make a wish.  Cross your fingers that the coin drops into the grate and your dream will come true.  Honestly! The wish I made on my first trip here has already come true – fingers crossed for the second one!
After Cinghiale make your way to Fashion Foodballer. Owned by former soccer players, there's so much memorabilia its more museum than restaurant. The tables are foosball, the seat cushions are old soccer balls, theres even a World Cup!  I've heard the food isn't spectacular but its good for a few drinks, plus you never know who you may see inside! 
For dinner head over to Il Latini. I had one of the best meals of my life there on my trip in September.  Share a Florentine Steak, with potatoes and beans.  I love bean dishes, always have, but these are the best I have ever eaten.  I was so stuffed, I unbuttoned my pants at the table with no shame.  We had a bottle of house red, which was actually quite yummy and finished the meal with my favorite Italian dessert – Biscotti & Vin Santo.  Dip the biscotti into your drink and then take a bite. Its like a magic trick!
Florence is really one of my favorite cities.  There is so much to do but these are my must – sees.  Check them out & let me know what you think!