By: Jacqueline Kirby Zonkowski
This post contains affiliate links. If you use these links to buy something we may earn a commission. Thanks.
From our food tour in Kinsale, we made our way to Killarney, settled just off the Ring of Kerry . Our hotel here was hands down my favorite of the trip. We were at the Brehon Resort & Spa, about a mile from the downtown area of Killarney. It looks like a castle with incredible views of the mountains, great food, and an amazing spa.
Since our pit stop in Kinsale lasted a little longer than planned, we had a short night out the first night. A quick dinner in the hotel and then a taxi to J.M. Reidy's, recommended by our concierge. I love these pubs, they seem like they will never end as you walk through room after room, with small intimate tables hidden in every nook and cranny. On the patio there was a band playing and groups of friends enjoying pints of Guinness. I however, opted for Jameson gingers to pass the evening, soaking in the clear night air.
The next day half of our group went to golf and the other half of us drove the Ring of Kerry. We went up to Ladies View, which was incredible. It is named from when Queen Victoria was making her tour through Ireland and her Ladies in Waiting were awestruck by the view, and I truly can't blame them! We drove through some small towns around the ring and then made our way to the stables for a horseback riding tour.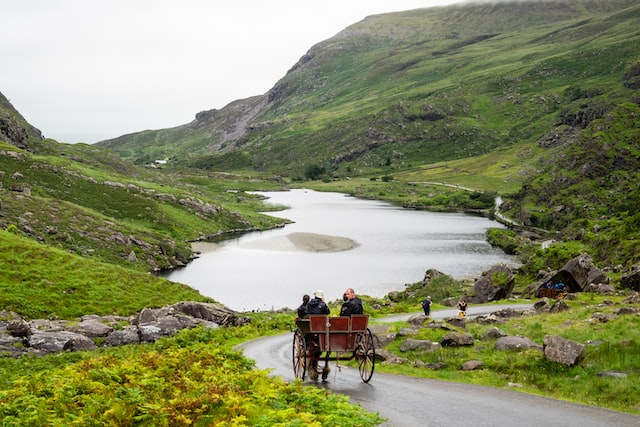 I'll admit I was nervous for some reason, which is odd because I grew up owning horses. I got over it after a few minutes, and made my way through the 2-hour tour in Killarney National Forest. On our ride, we saw tons of red deer, which are completely different looking than the white tail deer common in America. The big daddies have these huge antlers covered in velvet, actually making them look like reindeer. It was so fascinating because they are not afraid of anything, as they have no natural predators in Ireland.
The ride took it out of me and I was ready for a trip to the spa and a glass of bubbly, which is exactly what I did once we got back to the resort. There is a 10-step spa that I soaked in for 2 hours to relieve my aches and pains.  The spa, which is a flagship for Europe from its Asian outposts, features a Crystal Steam Room (my personal favorite), Herb Sauna, Tropical Shower, Ice Fountain, and the pièce de résistance in our group, the Kubeldusche, where you pour a bucket of freezing cold water onto yourself. Beyond refreshing once you gather the guts to do it!
We dined again at the hotel, demolishing mashed potatoes and fries like our lives depended on it, eating toasties – adult grilled cheese, and my favorite, the baked goats cheese, which is a flatbread with balsamic, goat cheese, broccoli shoots, and cherry tomatoes. From there we decided to head back downtown. This time to Killarney Grand, next to Reidy's. In the first part of the bar traditional Irish music was being played by a band of older gentleman. Once they finished, a rock band took over in the back of the bar. But if you went a little further there was a dance floor with a DJ. We enjoyed all 3 areas of the bar but really crushed the dance floor! My favorite part was when they played a techno version of Lion King with a light show. Nothing like a little Disney throwback to get the night going!
I really had a blast in Killarney. The people were friendly, the vibe was what you expect from an Irish city, and the food was delicious. I'll be swinging back through here next May so I'm excited to revisit these places and do a little more exploring along the way!