By: Jacqueline Kirby Zonkowski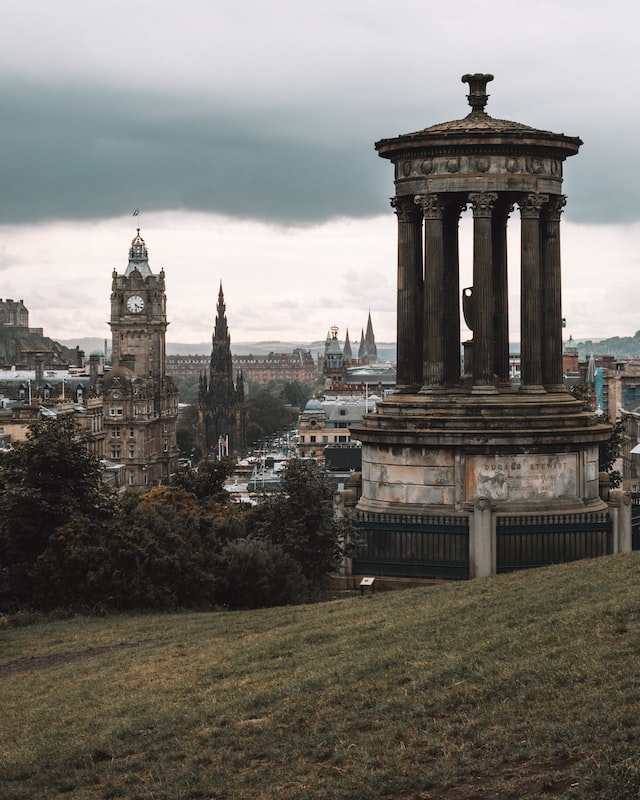 This post contains affiliate links. If you use these links to buy something we may earn a commission. Thanks
Our Edinburgh Getaway
Scotland has always been on my bucket list.  My Dad's side of the family has Scottish ancestry, the country looks so inviting, and of course, the origins of Harry Potter. So when I got an invitation in the mail for a wedding in Ireland, I talked to Mike about adding Scotland to our itinerary.  Both were big priorities on his bucket list so we booked our flight to begin our trip in Edinburgh.
Where we Stayed
Edinburgh is one of the very few places that I don't know anyone who has visited, and after going myself I really don't understand why!  But as I was planning our trip, deciding where to stay was quite the task for me.  I wanted to walk everywhere, but not be surrounded by tourists.  I ended up getting a room at B+B Edinburgh which was quite lovely.
The location was great, but I realized that most locations are great in Edinburgh as its really quite a walkable city.  I did want to be near Dean Village and Stockbridge though, as I read on many sites how quaint they are.  The areas are really cute to walk around in but that's about all you do there.
Where to Eat
We knew we had to try haggis while on this trip so we did a lot of research on where to go to eat it. Cannonball was recommended by a connection at Visit Scotland. This was the first place we ate on our trip and we enjoyed the cannonballs (haggis), macaroni & cheese (my request), and oysters.
I was scared to dabble in the haggis, I'll admit but I ended up loving it and ate it every day.All were delicious!  Plus the drinks were fabulous.  They used Edinburgh Gin and these apothecary concoctions they make and the drinks actually change color!
Hands down, our favorite place that we ate at was Arcade Bar, which is a Haggis & Whisky house.  Michael had this Princess Diana Haggis that was out of this world. It was served on a bed of potatoes with a tomato based sauce around it.  So beautifully presented and so yummy – but filling!  I had the deconstructed steak & ale pie which was a home run for me and I basically forced myself to finish it.
Kyloe was recommended to us by a number of people from strangers we met at bars to women in my travel groups.  We figured what the hell lets get some good Scottish beef.  The presentation of the meats set the tone to be a really great dinner but after sharing the sirloin we were both quite disappointed.  I think we must have just had an off night since so many people had suggested it to us so I would give it a try, maybe go at lunch so you don't blow as much money.  The views from here are wonderful though.  If you're lucky you can see the castle on the hill (Ed Sheeran, anyone?) from your table.
What to Do
Edinburgh is such a great city to just get lost in.  I would highly recommend just strolling around, go through Dean Village and Stockbridge, take a walk to Leith, really just wander.  Bring comfortable shoes though because it is super hilly!
I really enjoyed our walk down to Leith and the area.  I didn't so much love our lunch at Roseleaf Cafe but I would go back to the area again and try another place on the water for lunch.  You can also check out the Royal Yacht Britannia that used to be in service to the crown (just like in the Netflix series, The Crown).
We made our own Harry Potter tour but there are plenty to go on.  I took my 20th Anniversary edition of Harry Potter & The Philosopher's Stone with me and sat a the table J.K. Rowling wrote part of the series in at The Elephant House.  It was really magical because as you walk over to Greyfriar's Kirkyard and look out on to the city, it looks just like Hogsmeade in the films.  Stroll through the kirk yard (graveyard) and look out for Moody, Black, McGonagall, Thomas Riddle and more character names that *could have maybe* been an influence on the characters in the book.
I'm huge on my castles remember? So check out Edinburgh Castle for the crown jewels and the Palace of Holyroodhouse.  Unfortunately Holyroodhouse was closed while we were in town so that is top of my list for the next trip.
Be sure to check out both the Scotch Whisky Experience and a tour at Edinburgh Gin.  I absolutely loved both and I would suggest doing a tour at each place.  It's a drinking town for sure but there is a lot to cover outside of just drinking.  At Scotch Whisky learn about the regions and maybe take a day trip out to one.  At Edinburgh Ginlearn about the origins of gin and the different Scottish herbs that inspire their flavors!
Alas, after 3 full days it was just not enough for me.  I started planning my trip back to Edinburgh halfway through day 1.  I may have to start alternating it with London as my fly through town when going or coming to Europe!