By: Jacqueline Kirby Zonkowski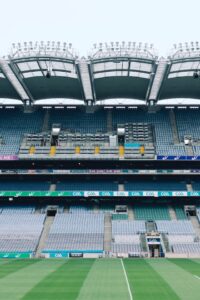 This post contains affiliate links. If you use these links to buy something we may earn a commission. Thanks.
Ireland has a truly special place in my heart. During my trip in July, I happened upon a match at Croke Park.  With it being the third largest stadium in Europe, I expected more dining choices and more to see / do.  Fun trivia fact though, Croke Park has played host to events for over 125 years!  I was there for the Leinster Cup Final, between Dublin in Kildare, spoiler alert – Dublin won.
Leading up to the game we stopped a pub nearby the stadium called The Red Parrot. This place was great. It was a shoulder to shoulder sea of light blue, Dublin's team color, with everyone happily downing their Guinness or whiskeys.  Out front was a woman grilling hot dogs and hamburgers, for both pub patrons and passersby.  Everyone was happy, ready to support their team and honestly, a bit drunk!
We followed the crowd on the short walk from the Red Parrot to Croke Park, meandering through row houses and side streets.  Its quite cute, and not something you get to see so much of in the States.  Once inside and to our seats (long walk to the top) we looked down to see the home section in the end zone, everyone piled together singing.  My favorite part of European sports is definitely the singing and crazy energy of the fans.  Its particularly exciting when you have not a damn clue whats going on and need someone to guide your cheers!
Anyway, back to Croke Park itself.  It is massive, and the city views are really incredible, but it just seems a touch impersonal to me.  Which, obviously could be since it does host a lot of concerts and is not a home to a massive money making team, like the Emirates in London, or Gillette Stadium in New England.
There are 3 different concession types: Leather&Ash, cafe style foods; Eighteen84, hot foods & snacks; and The Crossbar, for alcoholic drinks.  Of course there are some kiosks scattered around the concourse.  I love going to new stadiums and trying their food, especially local cuisines on trial, so to not really get anything special here let me down.
However, if you're traveling through Dublin and there happens to be a game, I would definitely check it out.  This was my first European sporting event that I had seen abroad and while unimpressed with the stadium, I really enjoyed the atmosphere and would certainly go back.