By: Jacqueline Kirby Zonkowski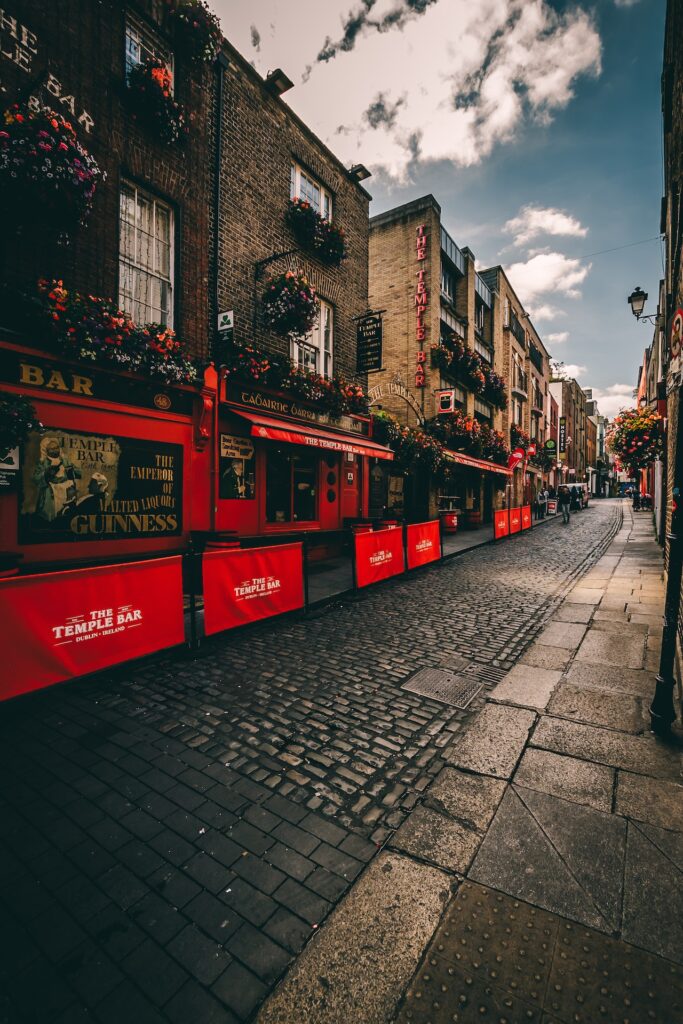 This post contains affiliate links. If you use these links to buy something we may earn a commission. Thanks.
Oh, Dublin.  Planes, trains, and automobiles and we finally arrived in this incredible city.  We stayed at the Blooms Hotel, quaint, easy to access from the airport via Airlink (the stop is a block away) and our quad room had a nice balcony.  While I normally love a good balcony, Temple Bar is loud as hell!  It was like the party was happening inside our room, not outside the hotel. As the saying goes however, if you can't beat 'em, join 'em.  And join 'em we did!
We started with fish & chips at The Stags Head.  It was probably the best fish & chips of the trip, but I couldn't finish due to my horrendous hangover and jet lag combination.  Before continuing the night I popped back into the room for a quick snooze and then made my way to meet my friends at No Name Bar.  I'll admit, it took me a while to find it and I was that loser walking in circles on the street, ashamed to ask anyone. Alas, I walked across the street and saw a small pop up sign (see below).  It was a very cool vibe, so many rooms, and a patio out back that I enjoyed my first Guinness of the trip on.
From No Name we did some walking around and stumbled upon The Liquor Rooms. The entrance is really discreet but when you walk down the steps under the sign that says "liquor" you are taken to another world.  Crushed red velvet, taxidermy animals, and bespoke cocktails made to your hearts desire.  Ask someone about the story behind the handcuffs, gun, and whip at the main bar.
Our bartender recommended us to try Roberta's, in the same ownership group, for dinner so we made our way there after a few cocktails. Its a beautiful space, big windows that look out onto the Liffey, and an atrium bar area.  We had Skeganhore Duck and the Stracciatella & Parma Ham flatbreads, along with a goat cheese & chorizo salad and a bottle of bubbly. Perfect way to kick off our evening!
We bounced around Temple Bar for a bit after dinner, naturally stopping at The Temple Bar, but really  finding ourselves at Oliver St. John Gogarty.  Our group had faded from 4 to 2 but Morgan and I had a blast. Every place has a live band but this one was my favorite. When Castle on the Hill came on it was like I was watching Ed Sheeran live, my body took over and it. was. a. party. I found it really interesting that they pass food around the bar at a certain point in the night so after a rough Jameson shot I grabbed a meatball off the shared plate – bad idea. But as happens for most ladies on a night out, there is one creep who will drive you out of a bar.  So on our way we went.
A few people had recommended 37 Dawson for late night so we hopped in a pedi cab and rode on over.  It was incredible, the streets were empty and we were flying, or so it felt after all we had drank… 37 Dawson was great, there is a disco ball horse, and a big crowd of locals who we made friends with.  It was a Sunday night so part of the place was closed but there was a whole section closed off, probably for the best.  We had an 8 am taxi and were quickly closing in on that time.  Back to Blooms we went, but 37 Dawson, we will be back for you!