By: Jacqueline Kirby Zonkowski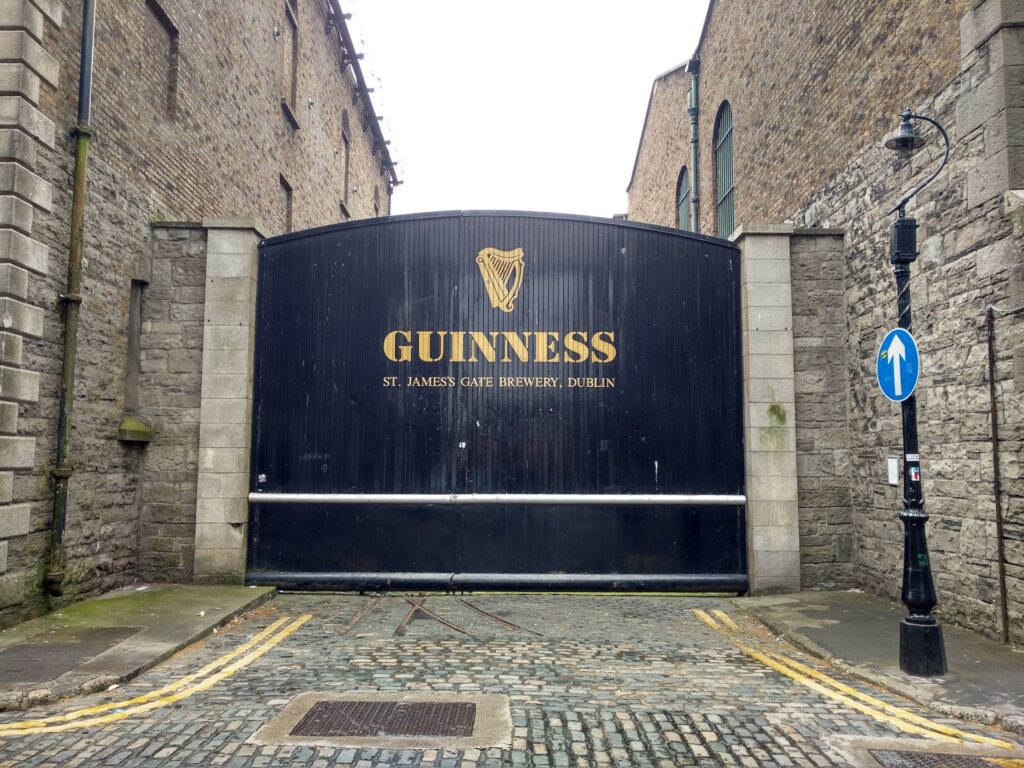 This post contains affiliate links. If you use these links to buy something we may earn a commission. Thanks.
Our trip has come full circle and back to Dublin it is. This time, we are staying at the other end of the river, closer to Phoenix Park and across from the Guinness Storehouse, at the Ashling Hotel.
I will say that being on this side of town entitles you to some sketchy seeming areas when getting back towards Temple Bar and other more popular sites in Dublin but we did discover the cute neighborhood of Stoneybatter. L.Mulligan Grocer had been written up by the New York Times as a gastronomic experience so we made a res for the first night back. The food was overall really good. I had the first meal I didn't need to season since the trip started – always a win. I had the sirloin with foie gras, potato wedges, and onion rings. Not traditional Irish but I had overloaded on fish & chips by this point. One of our friend's left early, not feeling well from the night before so we all got to sample his cheese platter. The bleu cheese was hands down the best I had ever had, throw in a candied walnut and I was happy, happy!
Stoneybatter seems to be a more residential area but still had a pretty good amount to offer. Ashley & I had met a couple the night before from Dublin and they gave us recommendations in the area for where to go out. We ended up at Token, a retro arcade bar only about a month old, just a few blocks from L.Mulligan Grocer. It was semi hidden and crowded with locals, which was great for us. I love to see the big ticket items when traveling but then prefer to catch more of the local feel wherever I go. So here we were 3 tourists amongst all the locals in their new hotspot. There was a great selection of beer, cocktails, and food, along with 2 floors of games. The top floor had the main bar, tables, and video games such as Mario Kart, Mortal Kombat, and Donkey Kong while the basement area had a smaller bar, more tables, and the pinball machines. Surprisingly it was my first trip to an arcade bar but I quite enjoyed it and can't wait to go back!
Our last day we really packed it in starting with a tour at the Guinness Storehouse. I say it is an absolute must on any trip to Dublin. I absolutely loved this place. Its 7 stories high and goes from introductions into how the beer is brewed, to a tasting room, to the advertising, learning how to pour the perfect pint and the Gravity Bar. We got there right in time for a 12pm tasting and to our pleasant surprise a performance as well. All of the servers in the tasting room actually dance which was really incredible.
From Guinness we made our way to the GAA Senior Championship game at Croke Park. It was for the Leinster Cup, Dublin v. Kildare. For a little pregame action we made our way closer to the park and stopped at the Red Parrot. It was overrun with Dublin fans, clearly the place to be! After a Jameson/ Ginger & a burger we walked over to the stadium. I had never watched, or heard of, Gaelic football before, but in a nutshell it is soccer, football, basketball, and rugby with the addition of volleyball serves. I only stayed through half time though so I could make my way over to Grafton St for a bit of a walk
If you're by Grafton, or have a pretty penny to spend on a hotel I would highly recommend The Westbury. It was a beautiful hotel and had a delicious restaurant, Wilde, which looked like you were sitting in a bistro in France instead of Dublin. It was a nice change to the hot, dark, pubs we had been in all week.
In all, I would say 3 days max at a time in Dublin, but I'm excited to get back there next spring!