By: Jacqueline Kirby Zonkowski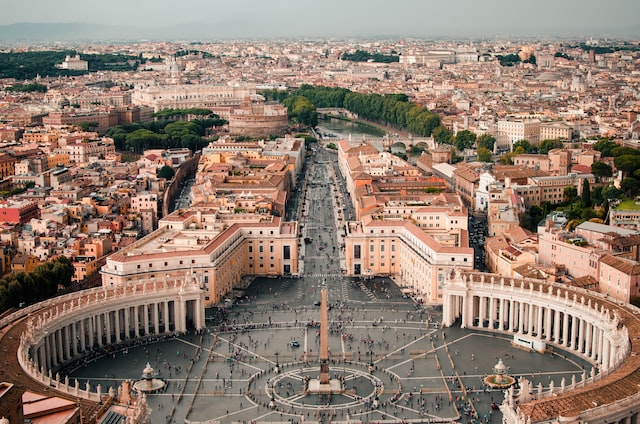 This post contains affiliate links. If you use these links to buy something we may earn a commission. Thanks
We've all seen that movie where the main characters are buzzing around Rome on a Vespa and thought, "how cool!" Right? Or is that just me? I was definitely one of those people.  The first time I went to Rome was a last minute decision and I only had a couple of hours so a Vespa was out of the question. So when I started planning my most recent trip, I made sure that was the first thing I booked..after my flight of course.
Some friends had previously done a tour and recommended using Scooteroma.  They have a few tour options, including a foodie tour.  I knew immediately that would be the one Michael would want. For 20 Euro more, you get 4 food stops on your journey around the city.  Its expensive overall but I plan to do it every time I go. Its that incredible of an experience.
Our drivers picked us up at our hotel and away we went.  I loved that it was private so the tour could be tailored to our liking.  I'm a happy person as you can see from my photos but I have never felt a rush like this.  Michael just kept looking at me saying he's never seen a happier person in his life.
What did we eat, you ask? What didn't we eat is more like it.  We started with pizza at Bonci, a place that apparently supplies the best bread in Rome.  I went for the Roman zucchini while Michael went with a Ricotta & Mortadella panini.  This is my problem when writing about these things, because now all I can think about is my zucchini pizza.  I actually went on a hunt for it this past weekend, no luck though.  Michael had wanted to try the classic Roman pizza but our guide, Riccardo, said we would go somewhere else for that.  We had to have the best and while the Roman pizza was very good at Bonci, it was not his favorite.
From Bonci we rode around, getting bits of history along the way.  Its actually much less intimidating than I anticipated riding on the back of the scooter.  I didn't even have to hold on really.  The drivers are so skilled, the weaving in and out of the traffic is second nature to them.  We rode through Trastevere, a really popular neighborhood for nightlife, and stopped in a back alley while Riccardo picked up a surprise for us. There is a little island that plays host to a hospital we stopped at for our surprise second treat.  It was Zuppli (surprise).  Similar to arancini but there is a cheese bomb in the middle that is supposed to surprise you when you bite into it.  Very messy, very delicious, I'm very hungry now.
We had to fit in this extra stop for the best Roman pizza so back to the center of the city we went to Marco Roscioli Il Forno. There was a decent line so we waited outside for Riccardo to get our dish.  It was 100% worth the extra stop.  The flavor of the sauce is just unbelievable. Roscioli is really close to some of the main attractions in the city and I highly recommend popping in for a slice.
What is an Italian food tour without gelato?? We scootered across town to Il Gelato Di Claudio Torce where I was not allowed to have any "normal" flavor of gelato. So I made a trio of cinnamon chocolate, cream with orange & bergamot, and ricotta cheese with Cointreau and orange peel.  I've got to say it was a hell of a combo.  All of the flavors were so unique and so delicious. Never would I have thought to make a ricotta cheese & Cointreau gelato but I'm so glad I had it.
Last, yet certainly not least, we made a stop for espresso in Piazza della Rotunda, home of the Pantheon. It was a bustling coffee shop called La Casa Del Caffè Tazza D'oro. The espresso was delicious and just what we needed for a last kick before making our way to Florence.  I've already said it, but I'll say it again.  If you go to Rome, take a tour with Scooteroma.  I promise you will not regret it!!!